Archive for the 'Uncategorized' Category
The latest video on the NERD NITE CHANNEL is from our 6th anniversary event where Dr. Krista Noble discussed "The Hard Problem of Consciousness"
Everyone agrees that our mental processes (meaning our thoughts, emotions, and perceptions) correspond with physical processes in our brains. The question is, how and why? Why do we have subjective experiences at all? Why aren't we genetically programmed to pursue survival, yet lacking consciousness? These fundamental questions still plague scholars in spite of our most advanced scientific discoveries.
The presenter, Krista Noble, received her Ph.D. and M.A. in Vedic (ancient Indian) studies from Maharishi University of Management (M.U.M.). She is an Adjunct Professor at three universities: M.U.M., the Holmes Institute, and the University of Philosophical Research.
Dr. Noble earned the Veda Vyasa Award, the highest award offered to M.U.M. graduates, for her Ph.D. dissertation. This work contrasted the physicalist (materialist) paradigm with the Consciousness-Based paradigm of Maharishi Mahesh Yogi. It discussed major themes in neuroscience, psychology, and philosophy of mind, such as the "hard problem of consciousness."
Dr. Noble is a lifetime member of the World Association for Vedic Studies (W.A.V.E.S.), and presented a paper at the international 2018 W.A.V.E.S. conference in Texas. She also recently spoke at the global Science & Scientist conference in Bhubaneshwar, India, and at Loyola Marymount University in California. In total, she has given over 30 oral presentations on topics related to her field.
If you have questions about Dr. Noble's talk, please contact her at vedicphilosophy108@gmail.com
UCF Space Scientists Drs. Josh Colwell, Addie Dove, and Jim Cooney (the Astroquarks!) joined Nerd Nite to record and live-stream their hit and hip astronomy podcast "Walkabout the Galaxy". Their main topic is be "Impacts and How They've Shaped the Solar System", including the latest news about fossils from the dinosaur-killing impact and the formation of Saturn's ravioli-shaped ring-moons. The astroquarks also discuss the latest news in space science and exploration and take questions from the public.
As we announced at our space party, we will be holding our next four events at the legendary Stardust Video & Coffee in Audubon Park.**
This of course is the same place where we held our first events back in 2013, so having Nerd Nite at Stardust is like coming back home.
We'll be at Stardust for the following dates:
May 9, 2019
June 13, 2019
July 11, 2019
August 8, 2019
Mark your calendars its going to be a fun summer. We'll be talking about comics, power rangers, memes, virtual reality, and so much more! Be there and be square.
** We also have a few special events abroad that we'll be announcing soon.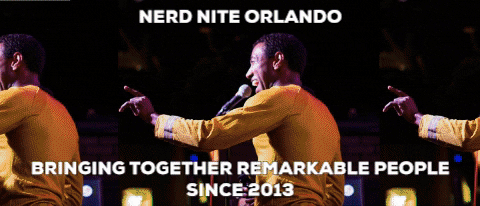 Yes, its almost the 2nd Thursday– and that means the same thing its meant for the past 6 years… another Nerd Nite event.
But this week is extra special. April 11th we'll be talking all things space in celebration of Yuri's Night.
Yuri Gagarin was a Soviet pilot and cosmonaut. He became the first human to journey into outer space when his Vostok spacecraft completed one orbit of the Earth in April 1961. Every year, Yuri's Night events happen throughout April all around the world to celebrate this historic event.
Our friends at Yuri's Night Space Coast are also doing their annual event on Saturday, April 13th. This is THE space party of the year. You'll literally be drinking and dancing with scientists and space enthusiasts underneath the Space Shuttle Atlantis at Kennedy Space Center.
Earlier that day, I'll be at the 9th annual Wine Women & Shoes competing for the title of this year's Sole Man! This is an incredible event that benefits Second Harvest Food Bank. The competition relies on donations made my by people like you and 100% of the proceeds goes to help our neighbors in need.
But before all of that, I'll be hosting Digital Orlando 2019 this Wednesday at the Orlando Science Center. Check out the details below on how you can join us for this week's events.
-Ricardo
Nerd Nite Orlando will be organizing programming specifically for our local colleges and are in need of student volunteers to join our team (to begin fall 2019).
Must be over 18 years of age and currently enrolled.
Put on your favorite party outfit and get your girlfriends together for a fun afternoon of shopping and wine tasting at the 9th annual Wine Women & Shoes Orlando event benefiting Second Harvest Food Bank of Central Florida.
Attendees will be treated to delicious food and wines, shopping from local and national boutiques as well as a fashion show. One lucky guest will win a dream closet of designer handbags, accessories, clothes and more – in the signature Key to the Closet drawing.
All proceeds from Wine Women & Shoes benefit Second Harvest Food Bank of Central Florida's mission to fight hunger in our community.
Winnie Palmer Hospital for Women and Babies is the presenting sponsor of this year's event.
WHEN:
Saturday, April 13, 2019
2 p.m. – 6 p.m.
WHERE:
The Ritz-Carlton Orlando, Grande Lakes
The Ritz-Carlton Ballroom
4012 Central Florida Parkway
Orlando, FL 32837
COST:
General admission tickets are $125 per person and VIP tickets are $225 per person. Corporate tables are also available upon request. For more information, visit www.wwsorlando.com.
On Saturday, April 13, 2019, one Sole Man will be crowned "The King of Sole" at the 9th Annual Wine Women & Shoes Orlando presented by Winnie Palmer Hospital for Women & Babies, benefiting Second Harvest Food Bank of Central Florida.
I'm raising money for the 9th Annual Wine Woman & Shoes Orlando event with a goal of $500 to be raised (or as much as possible) – and I would be honored to have your support to become the next "KING OF SOLE". As part of being a "Sole Man", I will be pouring wine, leading women into the event, and showing them different vendors.
Votes are counted by donations raised and 100% of the proceeds raised in the King of Sole contest will go directly to Second Harvest to help our neighbors in need –
Click here to donate:
https://2019-wine-women-shoes-orlando-king-of-sole-competition.everydayhero.com/us/ricardo-williams
Second Harvest secures and distributes food and grocery products to approximately 550 local nonprofit feeding programs throughout Central Florida. Last year, with the help of food and financial donors, volunteers and a caring, committed community, the food bank distributed nearly 58 million meals to partner programs such as food pantries, soup kitchens, women's shelters, senior centers, day care centers and Kids Cafes. In addition, Second Harvest's 16-week culinary program teaches foodservice-based technical, life and employability skills to economically hard-pressed adults. Second Harvest is distributing enough food to feed 53,000 people a day. To learn more about SHFBCF, visit www.FeedHopeNow.org.
At our 6 year anniversary we presented a new award, "THE ED PETERSEN AWARD" It is given to someone who has shown exemplary support of Nerd Nite because without the support from all of you Nerd Nite would not exist. It seemed fitting that the inaugural award go to none other than the person it is named after… Ed Petersen.
Join NERD NITE as we celebrate the annual Yuri's Night at STARDUST VIDEO & COFFEE on April 11th. This is a FREE event. We only accept donations.
Yuri's Night is a global celebration with parties and events held around the world every April in commemoration of Yuri Gagarin becoming the first human to venture into space in April 1961. UCF Space Scientists Drs. Josh Colwell, Addie Dove, and Jim Cooney (the Astroquarks!) will be joining us to record and live-stream their hit and hip astronomy podcast "Walkabout the Galaxy" at Nerd Nite. Their main topic will be "Impacts and How They've Shaped the Solar System", including the latest news about fossils from the dinosaur-killing impact and the formation of Saturn's ravioli-shaped ring-moons. The astroquarks will also discuss the latest news in space science and exploration and take questions from the public. Derek Demeter will also be in-attendance to setup telescopes outside of the venue.
WHERE: Stardust Video & Coffee
WHEN: Thursday, April 11, 2019
— Doors at 6. Show at 7.
Guest speakers include:
Derek Demeter
Dr. Josh Colwell
Dr. James Cooney
Dr. Addie Dove
Derek Demeter is the director of the Emil Buehler Planetarium at Seminole State College in Sanford, Florida. Derek also enjoys promoting science beyond the planetarium with his work as an astrophotographer, which earned him pictures seen in NASA's Astronomy Picture of the Day website, Universe Today, Astronomy Magazine, and Sky and Telescope.
Dr. Josh Colwell is a Planetary Scientist and Professor of Physics at the University of Central Florida. His research interests are in the origin and evolution of the solar system with a particular emphasis on planet formation, asteroids, planetary rings, comets, and interplanetary dust. He is a Co-Investigator on the Ultraviolet Imaging Spectrograph on the Cassini mission, a spacecraft orbiting and exploring Saturn from 2004-2017. Josh studies the structure and dynamics of Saturn's rings with data from Cassini. His experiments have flown on the Space Shuttle, the International Space Station, suborbital rockets, parabolic airplane flights, and he is developing a CubeSat for launch in 2018.
Dr. James Cooney is an astrophysicist at the University of Central Florida. He spends much of his time teaching astronomy and physics to hungry young minds. He also enjoys competitive Scrabble, stamp collecting, and a number of other nerdy pastimes.
Dr. Addie Dove is a planetary scientist at the University of Central Florida. She studies space dust to understand planetary surfaces, doing experiments in the lab and on parabolic airplanes, suborbital vehicles, and the ISS. She also teaches physics, astronomy, and planetary science classes. When she's not experimenting in the lab, she likes to experiment in the kitchen with baking and brewing.
Click here to listen to our interview.
Tuesday morning we were on 90.7 WMFE talking with Intersection host Matthew Peddie on everything from the changing nerd culture, to 80s movies, to the upcoming Nerd Nite Orlando 6 year anniversary on Thursday.
On March 14th, we'll be at Celine Orlando celebrating six years of thinking and drinking. Brendan Byrne and Dr. Krista Noble will be joining us as guest speakers.
March is Women's History Month– but today also happens to be International Women's Day. With that said, we feel extra obligated to educate you about a few remarkable people in a piece called, The Top 7 Women in Science Who've Made History That You May Not Know but You Should
Tiera Guinn Fletcher (age 24) is an African American engineer who graduated from MIT in 2017 and works for Boeing. She is one of the designers and structural analysts building the Space Launch System for NASA which is set to send people to Mars. On November 8, 2018, Fletcher won the Most Promising Engineer – Industry Award at the 2019 Black Engineer of the Year Awards.
Rosalind Franklin (1920-1958) was a British biophysicist and X-ray crystallographer who made contributions to the understanding of the molecular structures of DNA, RNA, viruses, coal, and graphite. Although her works on coal and viruses were appreciated in her lifetime, her contributions to the discovery of the structure of DNA were largely recognised posthumously.
Mae C. Jemison (b. 1956) is the first African-American female astronaut. In 1992, she became the first black woman in space. Before entering the space program, she was a medical doctor who served with the Peace Corps in Sierra Leone and Liberia. She has also appeared as an actress in an episode of "Star Trek: The Next Generation". She is a dancer and holds nine honorary doctorates in science, engineering, letters, and the humanities.
Maria Goeppert Mayer (1906-1972) was a German-born American theoretical physicist. She was the second woman to win a Nobel Prize in physics, the first being Marie Curie. She studied at Johns Hopkins during the Great Depression and persisted in her studies even when no university would employ her. Of her most famous contribution to modern physics is the discovery of the nuclear shell of the atomic nucleus, for which she won the Nobel Prize in 1963.
Austrian-Swedish physicist Lise Meitner (1878-1968) finished school at age 14, but she was barred from higher education, as were all girls in Austria. But she was determined to study radioactivity and when she turned 21, women were finally allowed into Austrian universities. Meitner, Otto Hahn and Otto Robert Frisch led the small group of scientists who first discovered nuclear fission of uranium when it absorbed an extra neutron. The discovery, which eventually led to the atomic bomb, won Otto Hahn the Nobel Prize in 1944. Meitner and Otto Frisch, did not share in the Nobel Prize in Chemistry for nuclear fission as it was awarded exclusively to Hahn. Though she was overlooked by the Nobel committee, Meitner continued her atomic research in Stockholm into her 80s.
Vera Rubin (1928-2016) proved that dark matter existed in the universe by concluding that invisible gravity sources were pulling planets and stars in certain directions. She was awarded the National Medal of Science in 1993 by President Clinton. The New York Times wrote after her death, "Dr. Rubin, cheerful and plain-spoken, had a lifelong love of the stars, championed women in science and was blunt about the limits of humankind's vaunted knowledge of nature."
Sau Lan Wu (b. 1940?) is a Chinese American particle physicist and the Enrico Fermi Distinguished Professor of Physics at the University of Wisconsin-Madison. She warmed up her theatrical career by discovering charm quarks and gluons, and then really changed the entire course of scientific history by helping to discover the Higgs boson particle, which is still the subject of cutting-edge science today.