On Sunday, the Centers for Disease Control and Prevention (CDC) called for the cancellation of in-person events of 50 or more people for the next eight weeks to try and prevent the spread of the coronavirus (COVID-19).
I'm seeing local groups say they will "closely monitor" the news in deciding whether their large gatherings should continue on as planned or cancel. Let me be very clear, this is a mistake. Anyone organizing large events should NOT deliberate, but rather we should all be taking immediate action and cancel/postpone any public gatherings.
For that reason, we're postponing ALL Nerd Nite events indefinitely until this crisis is averted. That includes our monthly events, special events at festivals/conventions, etc… I encourage other groups and organizations to do the same.
Although we won't be hosting large events, we will continue to provide you with nerdy content via livestream. Be sure to follow us on Facebook!

–Ricardo Williams
3-16-2020
You can still support Nerd Nite by making a purchase at the NERD NITE store!
BUY NOW @ bit.ly/nerdnitestore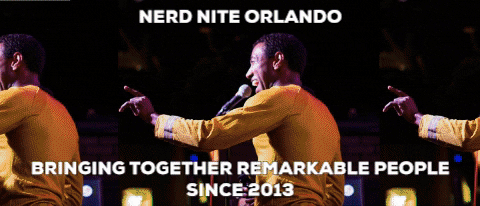 March 14th is now NERD NITE DAY in the City of Orlando.