Nerd Nite is an evening of entertaining yet thought-provoking presentations– all while the audience drinks along in a casual atmosphere. Speakers present for 15 minutes each on a fascinating subject, often in an uncanny and unconventional way. Following each presentation is a brief Q&A with the audience.
Want to speak at a Nerd Nite Orlando event? Please be so kind and fill out this form.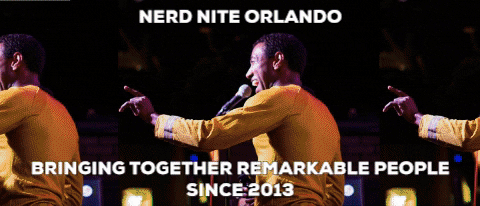 Nerd Nite operates in over a hundred cities around the world, including Tokyo, Seattle, London, Los Angeles, Des Moines, Austin, and many more. Nerd Nite launched in Orlando on Thursday, March 14, 2013.
Since its inception, Nerd Nite Orlando has taken place on every second Thursday of the month. If you have questions or concerns, email us at orlando@nerdnite.com
Nerd Nite Orlando is currently hosted by Ricardo Williams
Nerd Nite is a great way to connect with an engaged audience. Contact Ricardo [at] ricardo.williams@nerdnite.com for 2018 Q3 sponsorship details and special event opportunities.
Make a gift to Nerd Nite Orlando and join our crowdfunding campaign