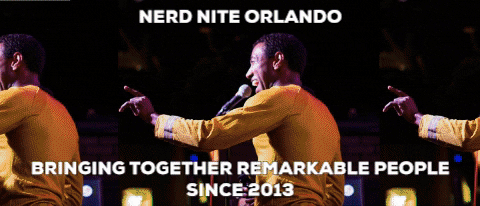 Yes, its almost the 2nd Thursday– and that means the same thing its meant for the past 6 years… another Nerd Nite event.
But this week is extra special. April 11th we'll be talking all things space in celebration of Yuri's Night.
Yuri Gagarin was a Soviet pilot and cosmonaut. He became the first human to journey into outer space when his Vostok spacecraft completed one orbit of the Earth in April 1961. Every year, Yuri's Night events happen throughout April all around the world to celebrate this historic event.
Our friends at Yuri's Night Space Coast are also doing their annual event on Saturday, April 13th. This is THE space party of the year. You'll literally be drinking and dancing with scientists and space enthusiasts underneath the Space Shuttle Atlantis at Kennedy Space Center.
Earlier that day, I'll be at the 9th annual Wine Women & Shoes competing for the title of this year's Sole Man! This is an incredible event that benefits Second Harvest Food Bank. The competition relies on donations made my by people like you and 100% of the proceeds goes to help our neighbors in need.
But before all of that, I'll be hosting Digital Orlando 2019 this Wednesday at the Orlando Science Center. Check out the details below on how you can join us for this week's events.
-Ricardo